GAH to Cyril 5 Sep 1928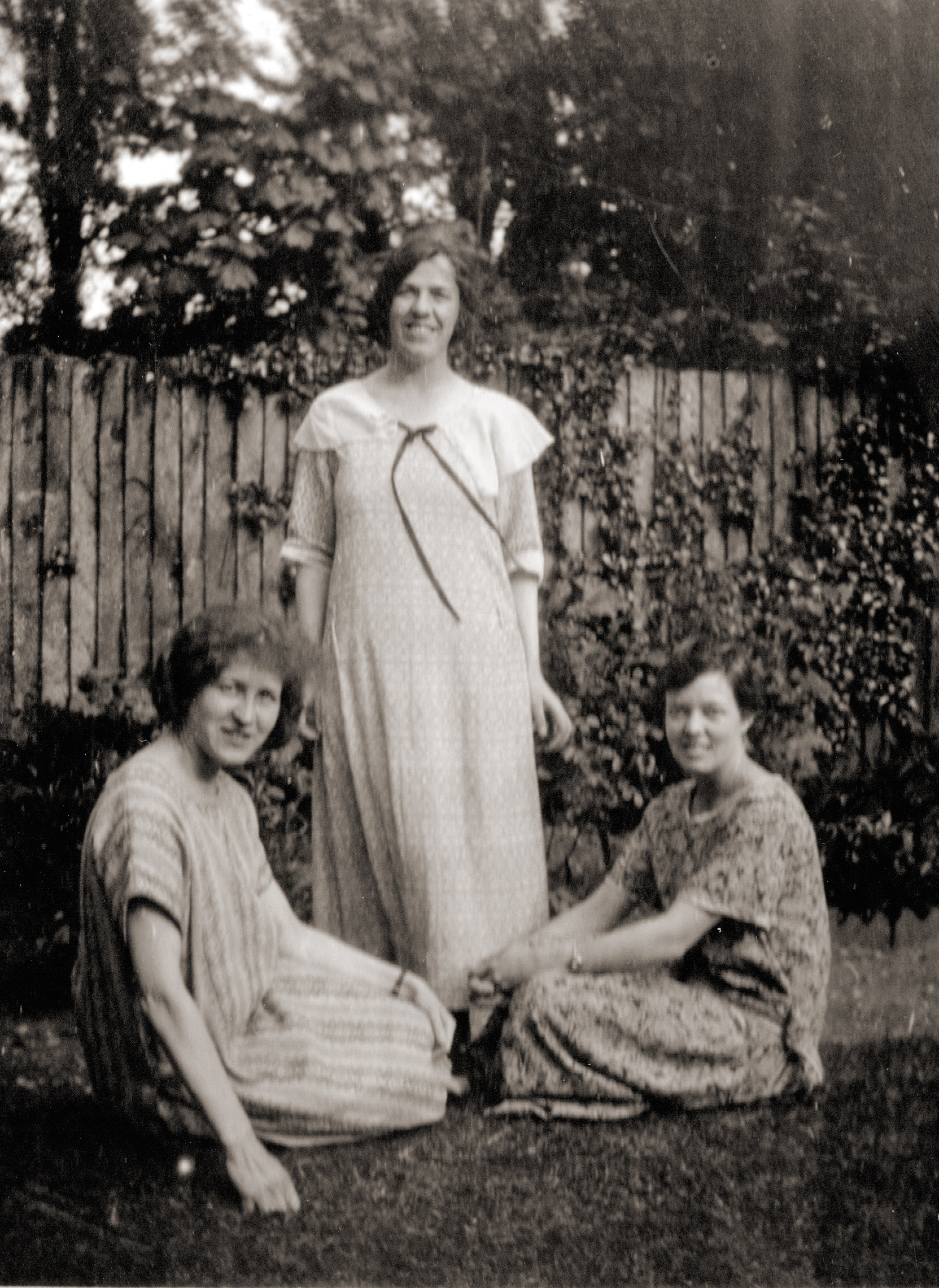 Picture: Hooke Sisters, Ella & Mildred with Elaine Oakden (1923) who married Cyril.
15 Victoria Road, Bude, Cornwall
5th Sept 1928
Dear Cyril
Francis and I came down here yesterday to join your other sisters. Beatrix made the journey last Saturday, - Mildred and Ella had preceded by three days and have made all the necessary arrangements. We have taken private apartments for the sake of economy and independence. They (your sisters) find a lack of privacy and restfulness in a boarding establishment. When they cater for themselves they get what they like and when they like. The drawback is the seclusion, - one is rather cut off. My neck has made steady progress but slow. The doctor would not let me come away until he had examined the place yesterday. He said it was the worst carbuncle he had met during his 30 years practice. I am not proud of that as I thought it must be proportionate to some extent to the care one had taken of the body, and I have certainly tried to take care of mine. Now, Francis is ressing the wound twice a day to try to get the wound, as it is healing, to close up the nasty hole it has made. Consequently I could not bathe in the sea even if I was strong enough and I do not feel up to it just at present.
Beatrix and Ella are busy at golf. They can only get day tickets and then they naturally wish to get as much use for their tickets as they can.
The past week has been beautifully fine but to-day it is clouding over. The sunset yesterday over the moors as I came thro' in the train was a thing of great beauty and delight and helped my outlook considerably. The early part of the ride, - through Basingstoke, brought back memories of my honeymoon trip and made me feel my loss very keenly. I could think only of your dear mother as I walked across the Downs this morning. I wish she were here!
We are in some difficulty about rearrangements at home and we find it hard to sell our double bed. I understand you much prefer single beds and if so I shall be glad if you will let me know.
Mr Oakden and Mr Herbert would have called at Barnes today had I been there; but I have had to tell them I had arranged to come here. I have asked Mr Oakden to stay with us as long as she can after the 19th. Francis and I will return on the 17th. Beatrix and Ella go back on the ninth and Mildred about the 12th.
Excursions by motorcar from here are numerous and a few are worth doing. We hope to go to Tintagel Castle and see Merlin's Cave as M, B & E have done.
With dearest love to all three
your ever affectionate Dad
GAH