Mildred Hooke - the Early Years
Mildred Hooke - the Early Years
September 1890, Wandsworth, London. A first child is born to George Hooke, a Custom House Clerk, and his wife Ellen. They name her Mildred Alice, Alice being the name of one of her maiden aunts, a renowned chess player. (Alice Hooke - Chess Champion) During the next six years, three sisters and a little brother are born to complete the Hooke family.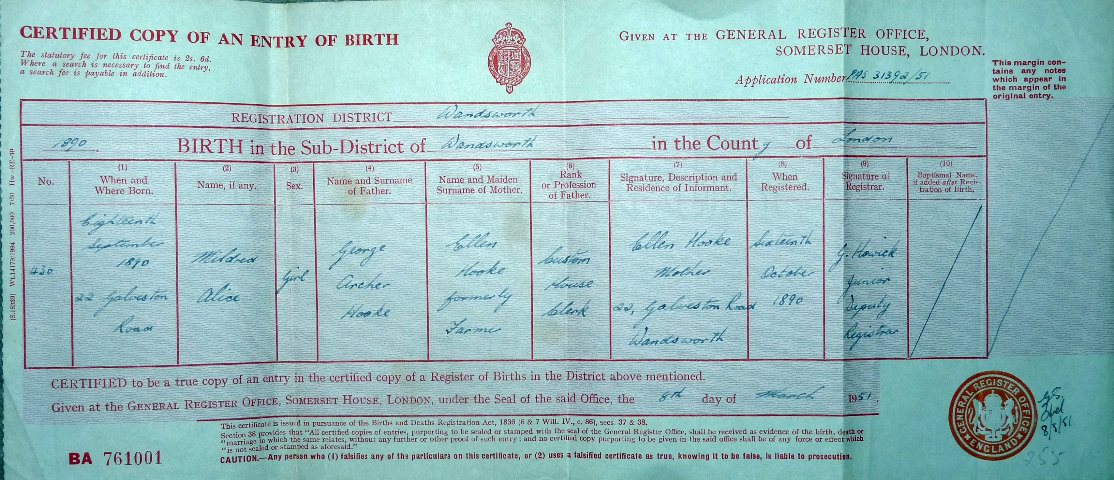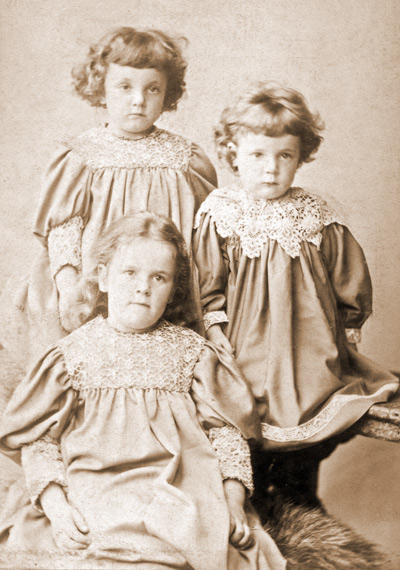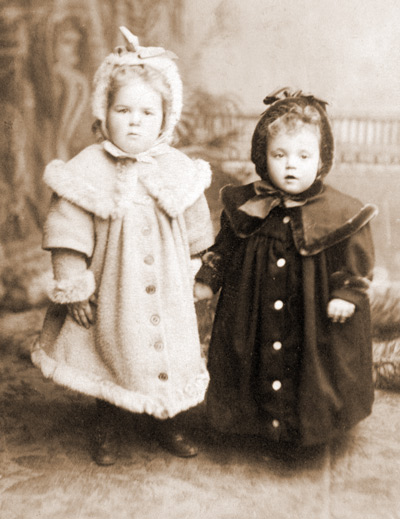 Photo left: Guess taken approx 1895 - Frances (4), Mildred (5) Trixie (3)
Photo right: Guess taken approx. 1893 - Mildred (3) Frances (2)
Photo below: Guess taken approx. 1898 - Cyril (2) Ella (3). Cyril in a dress? Weren't little boys dressed like girls when they were little? This certainly has the look of Cyril! This collection of photos was in an envelope marked "Mildred", containing a unique collection of photos and newspaper cuttings of Mildred's life, almost certainly kept by her and then saved by Granny (Ella Marion) Hooke on Mildred's death; my Granny being the last surviving member of this generation.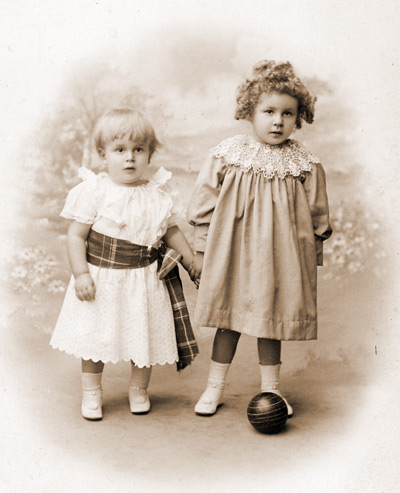 No doubt, Mildred was a bright child and her parents chose the best education for her that they could afford. Aged 13 she became one of the first pupils at the new St Paul's Girls' school, Hammersmith, built to complement the renowned St Paul's Boys' School. Mildred clearly loved and valued her time at this school under the headship of Frances Grey because, much later in life after retirement, she referred back to saying goodbye to Miss Grey, who answered her words, 'How can I be worthy of all School has done for me?' with these words from Proverbs 3:6, in the Bible, 'In all thy ways acknowledge Him and He shall direct Thy paths.'
There would seem to be little doubt that Mildred's wonderful career as a Head teacher was in some way inspired initially by what she experienced as a pupil under Frances Grey.
A letter from Frances Grey written in December 1905 to Mildred's father, George Archer Hooke, offered a consolation scholarship for two terms to Mildred's sister, Trixie, who apparently must have just failed to win a scholarship in a recent exam. The letter indicates the respect this renowned Head Teacher had for the Hooke family in making them the first choice for this particular gift of money, and also for Mildred, whose work and conduct she described as "excellent". The letter is well worth a read and is displayed here in its entirety.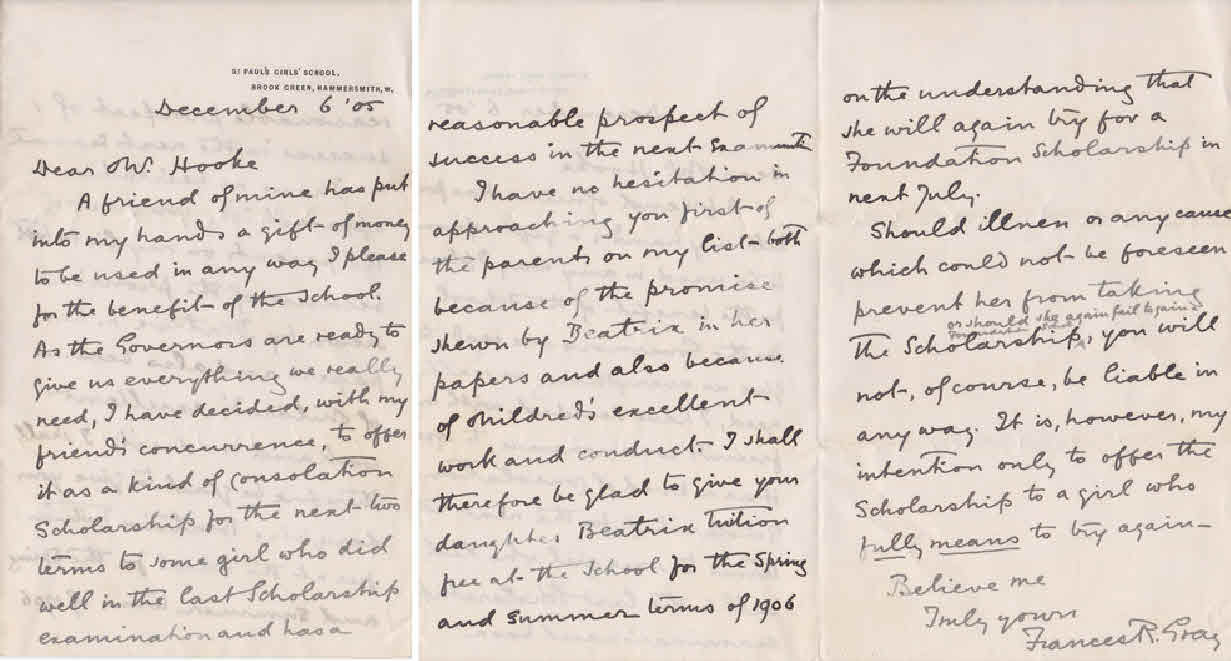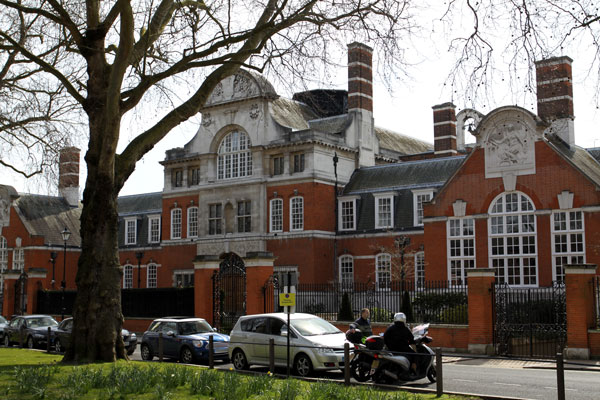 Mildred played the piano and always had a love of music. This was no doubt inspired at St Paul's School (photo left) by her music teacher; Gustav Holst, who taught as Director of Music from 1905-1934. The girls knew him as "Gussy". The school provided him with a sound-proofed room and it was here that Holst wrote his classic composition, "The Planets" between 1914-16.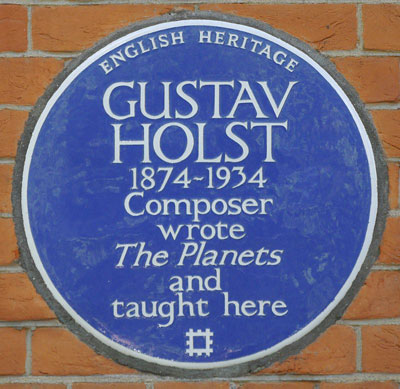 In 1912 he wrote a piece called "St Pauls Suite" out of gratitude to the school and composed especially for the opening of a new music wing in 1913. In fact he wrote many pieces for the school. I would love to know what Mildred and her sisters, Trixie & Ella, who also attended the school until 1914, remembered of Gustav Holst and the first performances of these great works!
Mildred was Head Girl at St Pauls from 1908-9.
(Photo right - attribution: By Edwardx - Own work, CC BY-SA 3.0, https://commons.wikimedia.org/w/index.php?curid=35099207)
Below - Pages from St Pauls Girls School Book (1925) with details of Mildred, Trixie and Ella's time at the school. Click on the link below for more about this famous school.
St Pauls Girls School Book
Next: Mildred Hooke - Into Teaching