Henry Hooke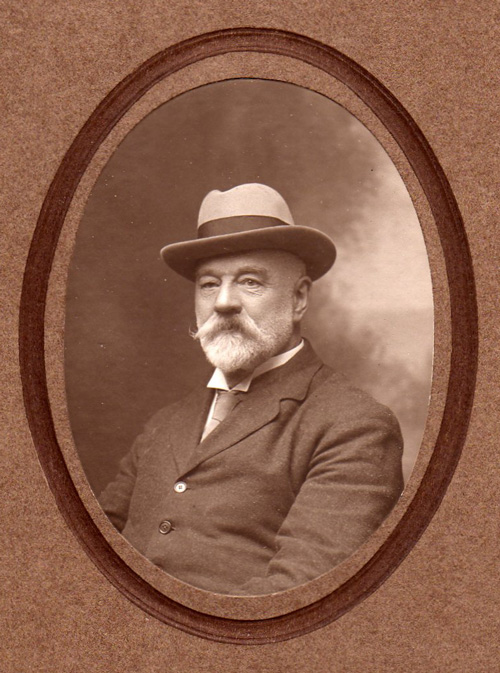 I have focused my attention on my great grandfather, George Archer Hooke, who was the third of twelve sons and daughters of William and Harriet Hooke. The first born son, William, had died age 5, and the second was Henry who was just a couple of years older than George. Here is Henry's history, with grateful thanks to Ann (surname withheld), his grand-daughter,
Henry Hooke 1854-1934
Henry Hooke, the second of 12 children born to William and Harriet Hooke married twice, to two Miss Stalkers. In 1877 Henry, aged 22 married Lavinia Stalker (1855-1911) at Lincolns Inn Fields, the Strand. They had two children William Samuel, known to the family as 'Brother Billy' who married Elsie, and Edith Lavinia. It is understood neither siblings had children. Then in 1915 aged 61, Henry a widower then, married Winifred Stalker and had a further 3 children from which there are descendent generations.
In 1910 Henry bought a family burial plot in Camberwell Old Cemetery (22021 Block 70). "Veenie" as denoted on the gravestone surround, died in November 1911 was buried first, then Henry in 1934, and Winifred his second wife in May 1967. Henry's youngest daughter Elizabeth retained the plot for her own burial together with her mum and dad. However such was the passage of time and circumstances that this sadly proved impractical. The plot had been purchased for 100 years, probably considered 'infinity' by purchasers at the time. Most graves were filled early century in the 20th century, and then perhaps as the unconsecrated part of the cemetery, were largely neglected. Winifred visited Henry's grave throughout her life, and as evidenced by much correspondence with the Council was deeply dismayed at the unapproved removal of headstones and neglect. Indeed she had a bad fall over an anthill that had been allowed to develop in the long grass of neglect, and told them so in no uncertain terms.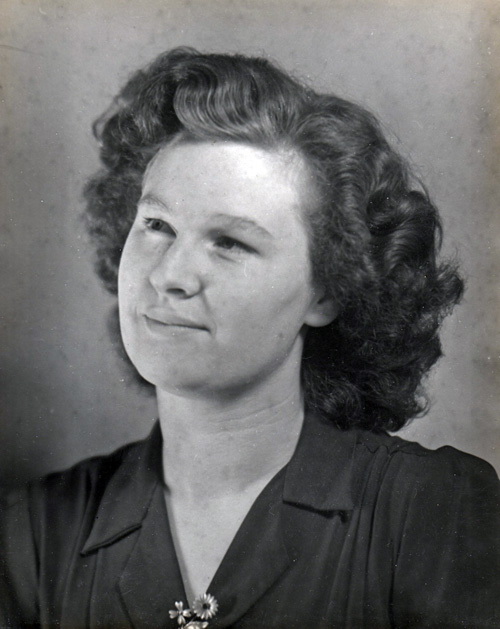 By the time Henry's daughter Elizabeth (Photo right) died in late December 2009, the family were living in Lytham, Lancashire and her husband too frail to consider a burial in London. However, in respect of their mum's wishes and as the next best thing, her daughters travelled to London in 2011, and scattered some of her ashes on the family grave. It was extremely hard to find in such a large area of almost entirely grass, but with the help of an attendant they were able to locate the plot number and read and photograph the cracked base stone surrounds. It was the right decision too, as with 100 years having elapsed Southwark Council now plan to re-use the area.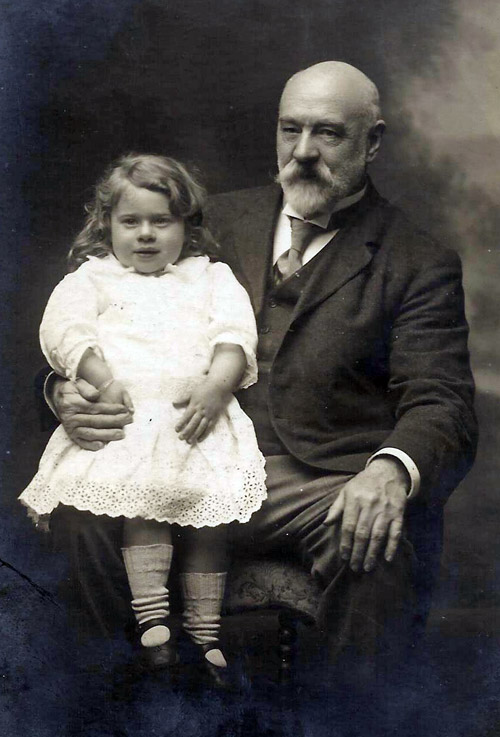 After Veenie died in November 1911, young Winifred Stalker went to help 'her uncle', whether this was 'live in' or 'daily' we do not know. As descendents we knew he was somehow related to the family, but it is only now in 2020 we realise both first and second wives were both Stalkers. Winifred's father was an Alfred Stalker, a local preacher, so this must be the link (still to be researched). When Winifred and Henry married in 1915 she was just 23 and Henry 61! One can only surmise at the exact circumstances of this 38 year age difference, perhaps just the shortage of young men in this WW1 period? Their 3 children Doris Winifred (1916-82), "Dolly" , Edward Henry (1922-44) "Ted", and Elizabeth Agnes (1927-2009) "Betty", certainly grew up knowing their mum and dad were much in love and Henry provided for his family as best as he could in his later years.
(Photo left: Henry and Doris 1917)
It is only in more recent years with the marriage certificate, that the story has begun to be pieced together. Henry and Winifred married in 7th December 1915 in Greenwich Registry Office and their first child Doris was born on 6th January 1916.
Dolly married in 1941 and had 2 adopted children. Ted sadly lost his life in WW2, which devastated the family. As the youngest, Betty married later in 1948, and went on to have 2 daughters and 2 grandsons. "Brother Billy" who lived into the 1950s took on some fatherly roles including "giving away" his half sister Betty at her wedding.
In their early years the Hooke family lived at 20 Sunray Avenue, Hernehill.
(Photo right: Henry and Winifred's children and Rover, Sunray Ave.,1927)
Later they lived at 33 Calton Avenue Dulwich. There are family photographs of the wider Hooke and Stalker families in those gardens. Henry continued to work into 'old age' providing for his family while he could, but is understood to have sadly died of pneumonia from 'walking the streets' during the 1930s depression looking for more work.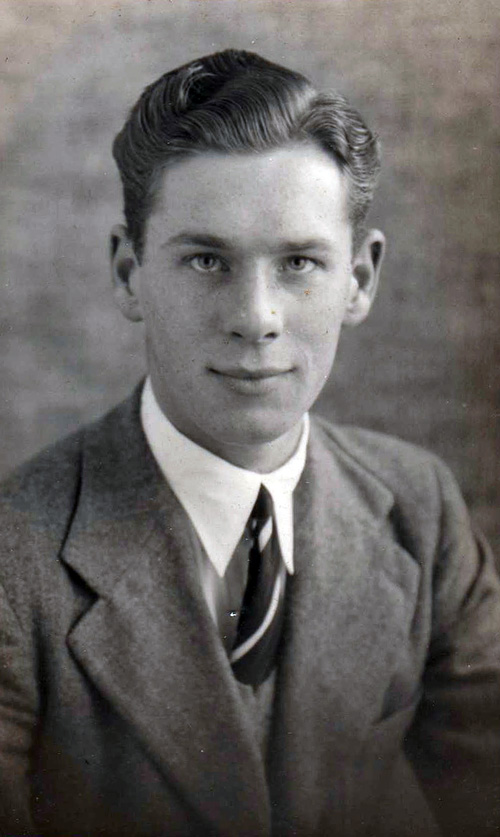 Winifred fought hard through correspondence to seek his pension when due. Before he died Henry had organised a 30 year lease on the house so Winifred would be able to run it as a boarding house, as an income. xShe lived there and brought up both her own 3 children together with her niece Phyllis Stalker, the daughter of her unmarried sister, another Lavinia Stalker. Phyllis lived and cared for her aunt Win for the rest of her life.
(Photo below: Hooke Family circa 1934 (from top left) Fred, ?, Henry, ?, ?, Elizabeth, Doris, Betty & Ted)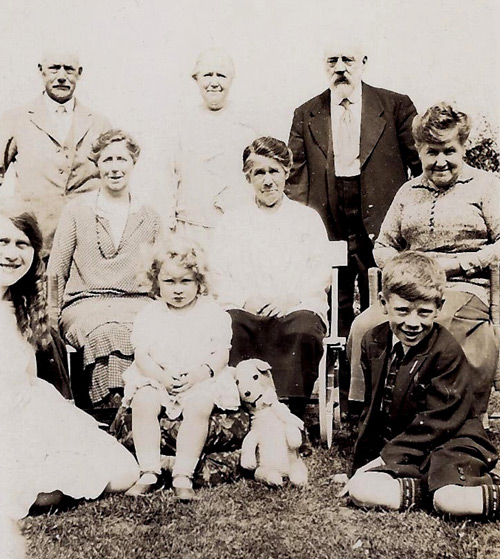 As well as photos and certificates etc, family memorabilia known to be from Henry include rifle club medals and badges, calling card and remembrance card, a Bioflix book of him doffing his hat and a card on which he'd written the entire Lord's Prayer in the area of a sixpence, and a book of signatories of co workers at the Ministry of Munitions on his departure on 28th February 1919.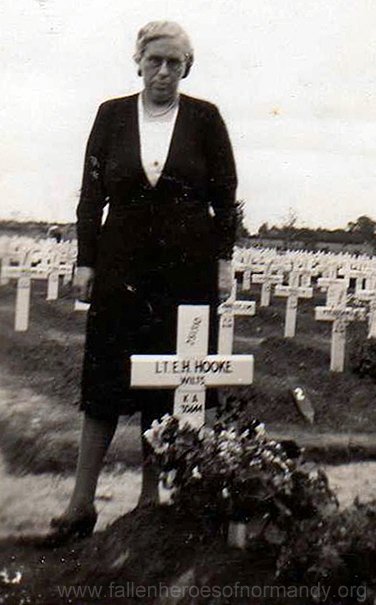 Photo Right: Edward Hooke, aged 17 in 1939.
Photo Below: Winifred Hooke, visiting her son, Edward's war grave, 1946)
At the time of writing in 2020, there are new generations beyond, for whom Henry is their great great grandfather.