Major C G Hooke - Off to India
In March 1920, Cyril was transferred to the Indian Army and set sail for Fyzabad. Such decisions can be life-changing and this one was no exception. It was out in India where he met his future wife, Elaine Oakden, shaping the course of the future of the Hooke family in what was probably a wholly unexpected direction. After living through action and danger during WW1, military servce appears to have taken on a much gentler tone in India, especially once he was courting the daughter of a very senior member of the Indian Civil service, Ralph Oakden, later to be knighted. In years to come he will mix in the circles of the well-to-do and clearly enjoy the lifestyle of the colonialists. However, what is also clear is that he and his wife came to be much loved by the Indian people he served, and by whom he was served. The colonial era is much maligned today but Cyril and Elaine, whilst being creatures of their time, were also deeply humane, caring Christian people who left their mark for good in India.
But I am jumping ahead. His was a life of military service and there was much training to be done. This is one of his certificates which shows that he was an excellent shot.
On a return visit to the UK in 1924 it seems that Cyril earned his passage from Bombay to Hull by serving very capably for the two month voyage as a purser on board the SS Steelville, as shown in this certificate of discharge.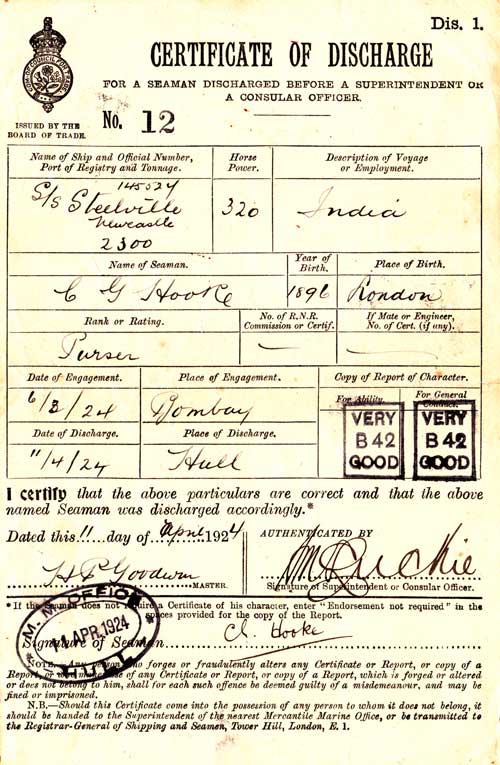 The SS Steelville was a new cargo ship, having only been launched the previous year, on Tyneside, in April 1923.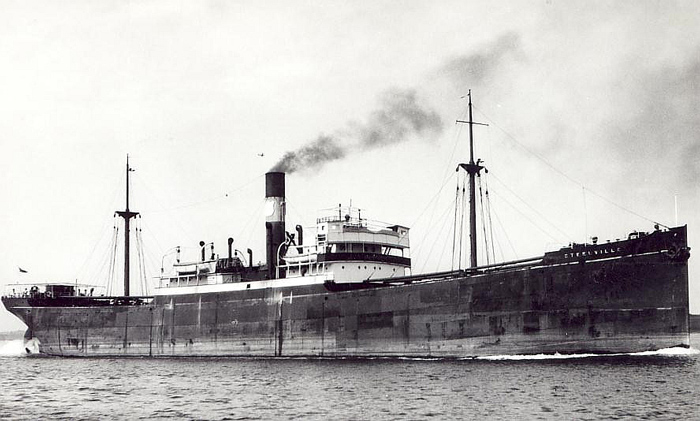 TO BE CONTINUED
Cyril & Elaine Hooke - Marriage
Cyril & Elaine Hooke - Life in India
Cyril Hooke - Church and Faith
Cyril Hooke - Correspondence with Mildred