Captain C G Hooke's 1929 Indian Mess Uniform
On 14th April, 2021 I received the following email:
Auction Officer Uniform C.G.Hooke
My name is Bart and i live in Holland. I came across an old army uniform on Catawiki which belonged to Captain C.G. Hooke. I am always interested in military history so I googled the name and found your website. I think it might be the uniform of your grandfather. Maybe i am wrong or maybe you are already aware of this auction, anyway I thought it might be worth sending an email over.
Kind regards,
Bart van der Plas
See link https://www.catawiki.com/l/47112261
I immediately replied to Bart thanking him for the information and confirming that this certainly was the mess uniform of my grandfather Cyril George Hooke who was in India for much of his career. I had no idea how it might have come to be for sale on a Dutch auction site or when it pssed out of the Hooke family hands. The seller had uploaded nearly 40 images of the uniform which provided a comprehensive set of of photos of the jacket, trousers and waistcoat with all details, including my grandfather's handwritten name on the neck label. Given that it was highly unlikely that there was another C G Hooke who was a Captain in 1929 (the date shown) in the British Army in India, this has to be my Grandfather!
Here are the photographs (double-click on each image to see it in high resoolution):
Captain C G Hooke Mess Uniform
I informed all the family about its avaiallability and then Rick, Jono, Wendy, Ruth and I had a family confab and decided to bid for the uniform, sharing out the cost. We succeeded at winning the auction at the reserve price of 160 euros akthough it had been valued at about twice this.
I contacted the seller for further information and received this wonderful reply:
Hi Graham,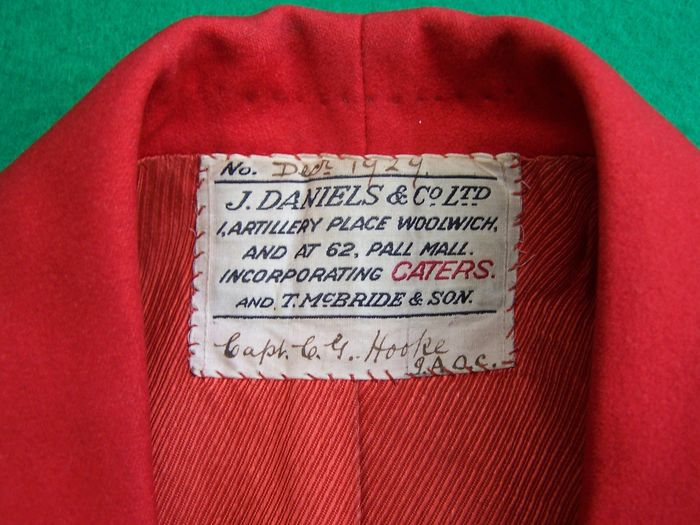 Many thanks for your successful bid, it is absolutely fabulous that the uniform has made full circle and returned to your family, and what a fascinating read your family chronicle is, especially of your Grandfather.
It has made being temporary custodian of the uniform very poignant, thank you, regarding its recent history, I originally sourced it from a 'Military auction house', "Marlow's of Stafford", approximately one year ago, as my bids were the winning ones for several lots.
The rank 'pips' were absent, which I have replaced, as the mounting holes were present in the epaulettes, I also had a twin WW1 miniature medal ribbon bar, which going by the rank and year of the uniform, I assumed that 'Capt' Hooke' would have served during 1914-1918, and took poetic licence and attached, now knowing that this would have actually been his 'Military Cross' ribbon, everything else concerning the uniform is exactly as I purchased it.
By the way, how did you happen to come across the fact that this was up for auction, as I had previously listed it on 'Catawiki' last month, with it not attracting a bid, so very providential indeed that it did not sell then.
I shall be keen to read further of your family history.
Thanks again, take care and stay safe.
Kind regards.
Gerald
P.S. I shall securely parcel it up over the weekend, for dispatch on Monday.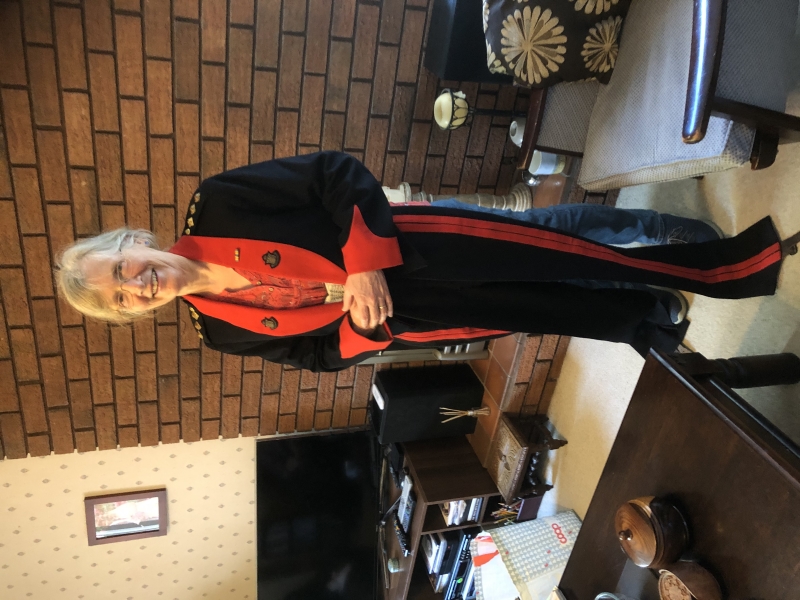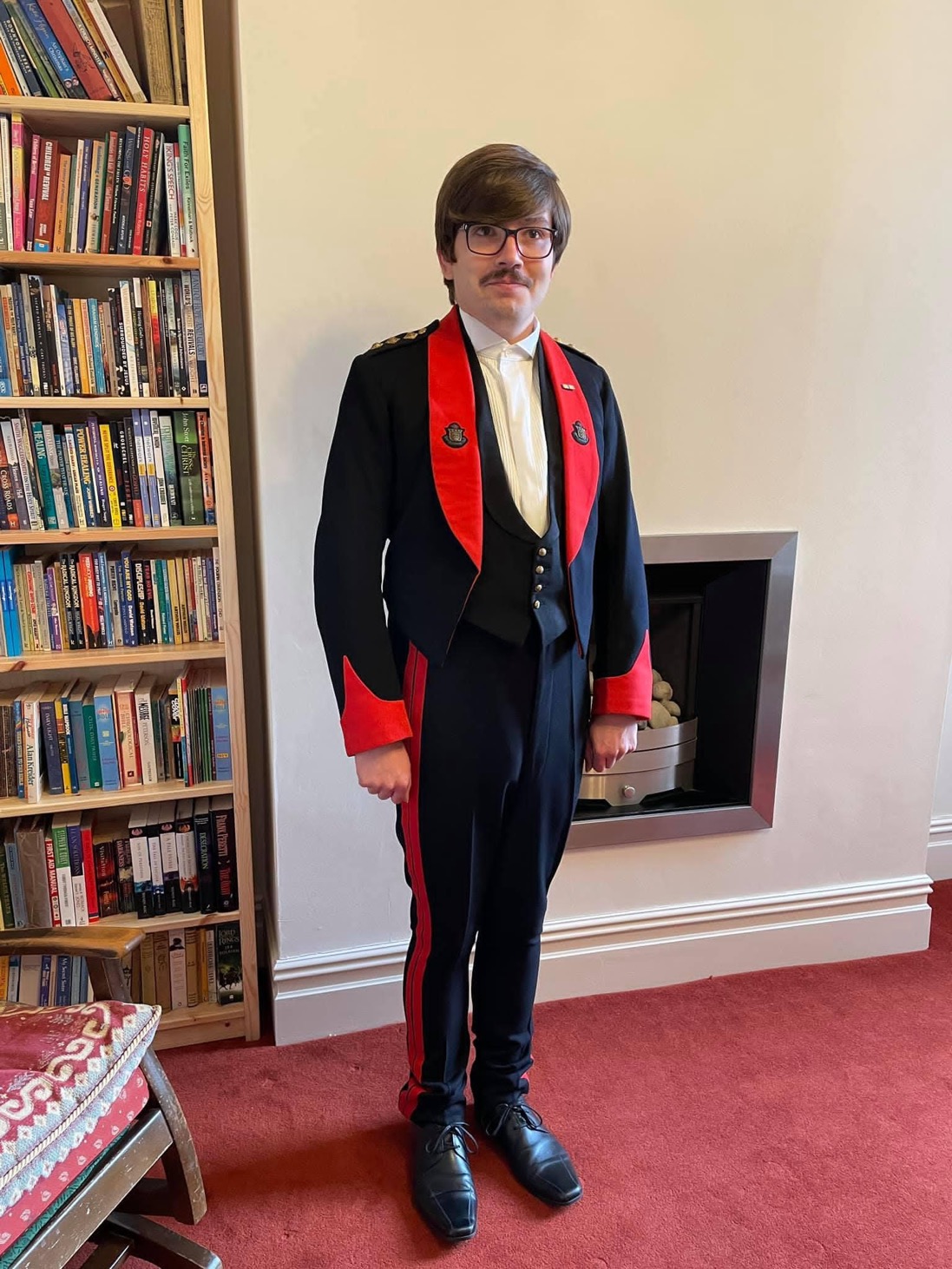 The uniform is extremely well tailored and is a classy item, made by J Daniels & Co of Woolwich, in 1929 as per the label shown above.
Before passing the uniform on to my nephew Jono who contributed to the purchase I thought I'd try it on. Sadly, although I was once a good match size-wise for both my father's and grandfather's clothes there was no way now that I could get the jacket on. However, my sister Kath was able to model it beautifully for us and the whole uniform was a great fit for Jonathan.
Below is a set of photos of Jonathan Hooke, loooking very suave and dapper in his Great Grandfather Cyril Hooke's mess uniform.
Mess Uniform - Jonathan Hooke
The trousers are extremely long, clearly designed to come right up to the chest and be held up with a pair of braces.
This story is yet another example of how this website has added to our family history with new information coming to light. I have expressed the great appreciation of the Hooke family to Bart and Gerald for their help in bringing this wonderful piece of history back to the Hooke family.
Cyril & Elaine Hooke - Marriage
Elaine Hooke - A Full Life Remembered