Katherine Mary Oakden and Julius Harold Hurst (1900)
Two large Oakden wedding photographs have survived from 1900 and 1910. Each is mounted on card; the photos themselves measure 8" x 6". Granny Elaine Hooke has pencilled in the names of all those she recognised.
The first wedding photo shown below is of Granny's Aunt Mona, taken in 1900. Aunt Mona is Katherine Mary Oakden (1877-1970), one of Roger and Elizabeth Oakden's six children, one of whom was my great grandfather, Sir Ralph Oakden. She grew up in Bramshall, Staffordshire where her father was the Rector. The wedding photo was taken on the day of her wedding to Julius Harold Hurst (1873- ?) at Bramshall on 26th July 1900 and features more than 30 family members. To find out more about the intriguing Julius Hurst read on after looking at the photo.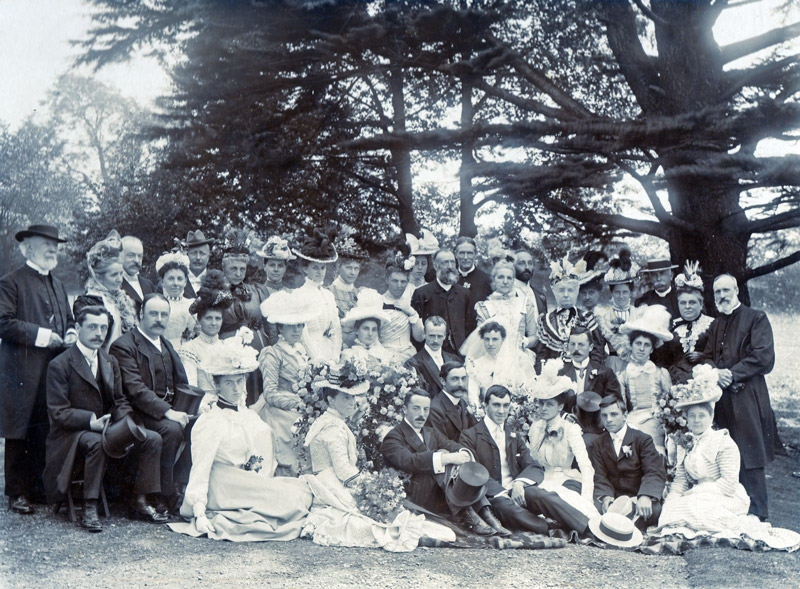 Back 3rd & 4th from left: Philip Eagles (63) and Mary Jane Eagles (2nd wife known as Little Grannie)(42)
Back 8th from left: Marianne Blanche Eagles (29) (daughter of Philip Eagles)
Behind Bride (Katherine M Oakden) (27) & Groom (Julius Hurst) (22) are Roger (53) & Elizabeth (60) Oakden (Bride's parents )
Back 6th & 4th from right: Katherine Tyrell Knapp (Aunt Kate) (67) Alice Roberts (Aunt Alice) (35)
Front 5th,6th,7th from left: Roger Brooke Oakden (19), Fanny Maysmoor (Aunt May)(23) & John Gould (Jack) Oakden (17)
Unfortunately there is no record of who most of the people are.
Julius Harold Hurst is a fascinating and seemingly arrogant, egocentric character! There is quite a lot of information about him online from American sources. He is the only member of my family's ancestry that I have found to have connections with Lytham! He lived there for a while as a child and, after he moved overseas he liked to visit Fairhaven on his travels! Here's a brief bio that I've been able to put together,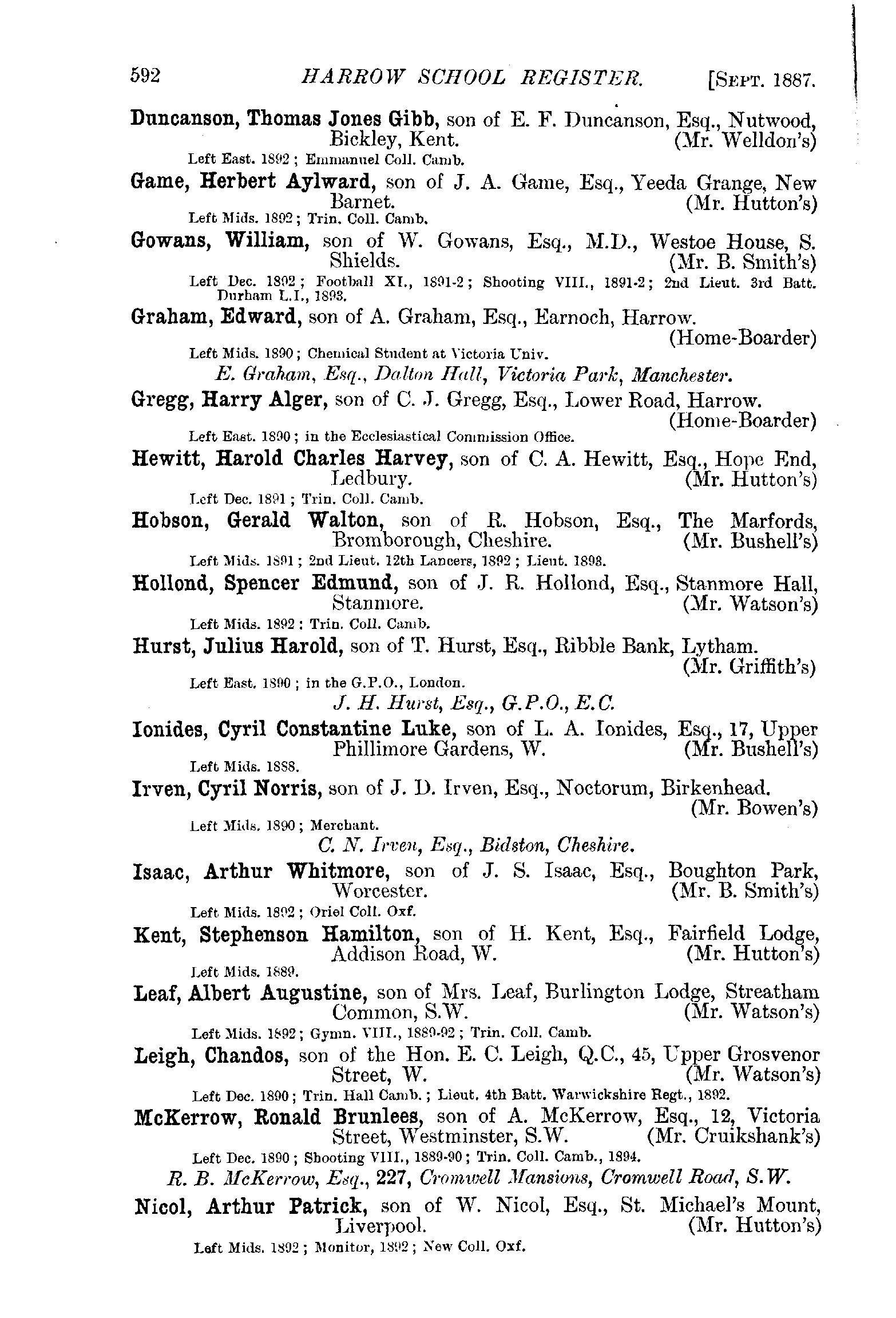 Julius Harold Hurst was born on June 7th 1873 in Stalmine, Preesall, Lancashire. The village is not far south-east of Fleetwood on the road in the Wyre district. He was the son of Thomas and Jane Hurst, Thomas being a cotton mill owner and probably a self-made and very wealthy man. In the census of 1888 when Julius was 14 he was recorded as living in Lytham. This home was confirmed by the school record from Harrow from the previous year of 1887 which states that Julius, now a pupil at this prestigious school, is the son of T.Hurst Esq., Ribble Bank, Lytham. (right)
The next census of 1891 shows he was living in Hamer Hall, Rochdale, with his Uncle William Hurst (aged 60), a machine maker, along with housekeeper Mary Roberts (aged 59) and a servant, Jane Malcom, aged 22. Presumably his Harrow education has now finished. But Julius was now a young man on the move! He was a global traveller. If the reports are accurate, in the next few years he travelled to Australia, Japan, Africa and many other places.
Supported, no doubt, by the family wealth his education continued in the United States. In 1892, aged 19, Julius sailed from Liverpool, arriving in New York on 4th November 1892 - according to the Ellis Island and New York Passenger Lists. From there he travelled to Columbian University, Washington ( a private university which changed its name to George Washington University in 1904) where he studied for his M.D. He went on to take advanced medical studies awarded by Yale University, New Haven, Connecticut, the third oldest higher education institution in America. The Yale Yearbooks of 1898 and 1904 (shown below) give us a fascinating insight into Julius as a young man with an insatiable curiosity and self-declared genius. I imagine he was a charismatic young man and on one of his visits home he met (and probably swept of her feet!) Katherine Mary Oakden, Rector's daughter and one of Ralph Oakden's (later Sir Ralph Oakden OBE) three sisters. The wedding took place as previously mentioned on 26th July 1900 at Bramshall.
The happy couple emigrated to America in 1901 as Julius was still to complete his studies to become a doctor. They lived in Connecticut and the census records confirm Katherine's presence there.
It's worth reading the Yale yearbook self-portraits of 1898 (left below) and 1904 (right below) to discover more about the kind of man Julius was!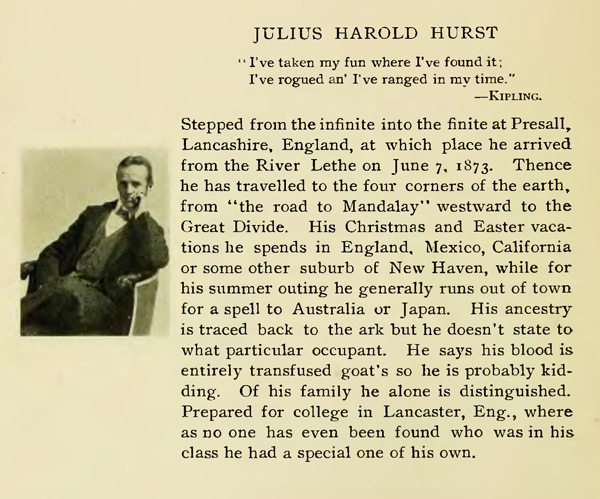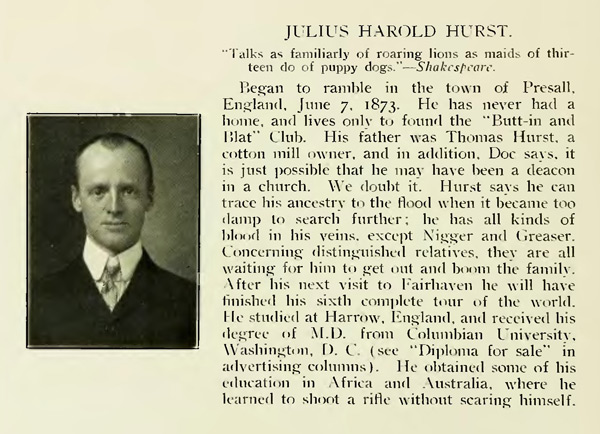 The Hartford County Connecticut Catholic Press records that in June 1904 he graduated from Yale and was awarded the Degree of M. D.. cum laude. He set up in private practice over on the East coast, according to the census of 2010, in Township 1, Santa Barbara, California, USA. He naturalised as an American on 10th August 1906.
At some point his marriage to Katherine (Aunt Mona) failed and she returned to England for the rest of her life, She had no children and never remarried and is described as widowed in the wartime census of 1939. She died on 30th December 1970,aged 93, in Princes Risborough.
Julius Hurst, meanwhile, married a 17 year old girl, Eleanor Madge Mahar in Santa Barbara, California in December 1916. He was still working as a doctor but he was registered for WW1 call up on 12th September 1918. His address was 1225 State Drive, Santa Barbara.
The next thing we know is that on 1st November 1918 he was on board the SS Sachem (built by Harland & Wolff in 1893, scrapped 1925), sailing from San Francisco to Honolulu, arriving there on 9th November. Was he trying to escape being called up? Presumably his callup never happened as the war ended just a few days into his stay in Honolulu!
What happened next I cannot say as the trail of records is almost ended. Did his second marriage survive? We know that Julius himself survived until at least 5th April 1930 when the census for that date informs us that he was living in Washington, Columbus, USA. His first wife, Katherine, lived to the age of 93, passing away in Princes Risborough, UK in 1970 and his second wide, Eleanor, lived even longer to the age of 97, and died in 1997 in Eastport, Maine, USA.
1873, 7th June Birth, Stalmine, Preesall, Lancashire
1873, 29th June Christening, Stalmine, Lancashire
1881, June 29th Census, Ribble Bank, Lytham, Lancashire, England
1891, April 5th Census, Hamer Hall, Rochdale, England
1892, Nov 4th Immigration, California, USA
1900, July 26th Marrige to Katherine Mary Oakden at Bramshall
1903, June 1st Graduated from Columbian University, Washington wiith M.D.
1904, June 27th Degree of M.D. cum laude, Yale University, New Haven
1906, August 10th Naturalization, Connecticut, USA
1910, April 3rd Census, Township 1, Santa Barbara, California
c1910 to 1916 Divorced Katherine who returned to the UK.
1916, Dec 26th Marriage to Eleanor Madge Mahar (aged 17), Santa Barbara, California
1918, Sep 12th WW1 Draft Card, USA
1918, Nov 1st Sailed from San Francisco to Honolulu
1930, April 5th Census, Washington, Columbus, USA
Unknown Date of Death. Katherine Hurst described as bereaved rather than divorced in 1939.
1970, Dec 30th Death of first wife, Katherine Mary Oakden, Princes Risborough
1997, Feb12th Death of 2nd wife, Eleanor Madge Hurst, Eastport, Washington, Maine, USA.