Elaine Hooke - A Full Life Remembered
Granny's Life Remembered
As told by her sons George & John at here funeral on 4th January 1999
The outline of this website does tend to focus on my grandfather, Cyril, and there are pages yet to be written about his life. However, his wife, Elaine, my grandmother, is equally deserving of a full record of her own life story and there is no doubt that without her care and attention to detail, her preservation of family records from all sources and her meticulousness in labelling everything, that very little of this website would have been possible. She outlived every member of her generation in our family and was dearly loved by all who knew her. I have enough of her saved mementoes, scrapbooks and diaries to devote many pages of this website to her life. I doubt that I will have the time, even in retirement, to include everything, but I will make a start with those records that provide a helpful overview of her life, in particular the eulogies of her two sons, given at her funeral on 4th January 1999.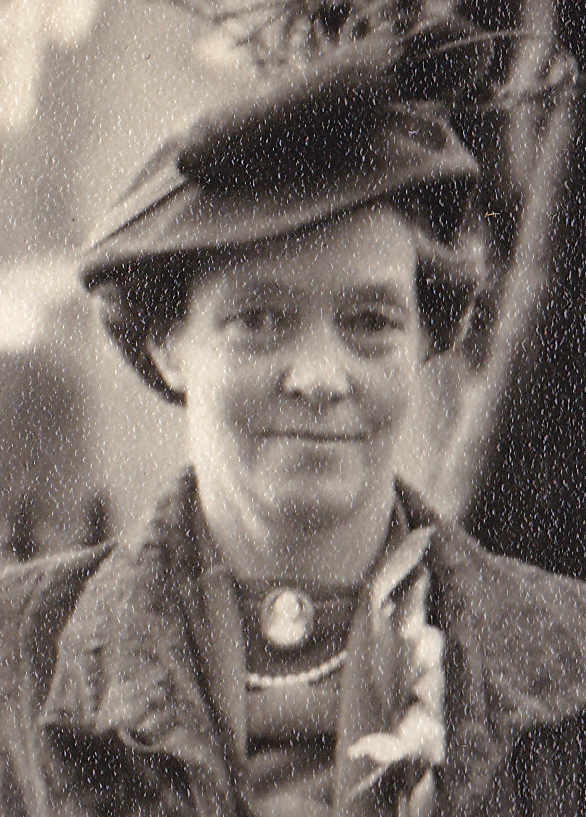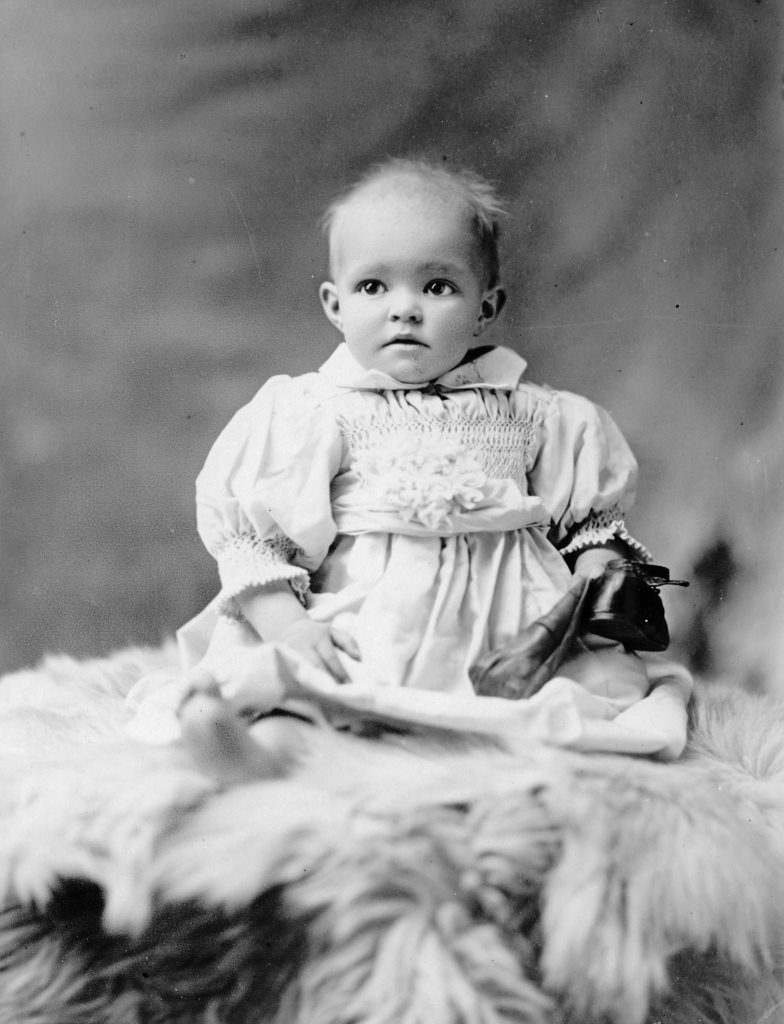 Ella Marion Hooke (nee Oakden)
2 June 1900 Born in Meerut, India
1905 - 1910 Lived with grandparents (Roger & Elizabeth Oakden)
in Bramshall, Staffordshire
1910 - 1914 Lived with parents, 2 sisters and a governess in Dehra Dun & Mussourie.
Educated by the governess, Miss Linton.
1914 - 1921 Lived with aunts and grandmother after grandfather died (1915)
(Aunts were Ella, Mona and May nee Oakden)
Educated at Roedean school (1 year)
Then Oakdene School, Beaconsfield.
1921 Returned to India
23 Feb 1926 Married Cyril George Hooke, Lt, R.F.A. in Meerut, India
9 Nov 1926 Birth of first son, George, in Allahabad
1929 - 1930 Returned to England with C G Hooke on Ordnance Course
17 Sep 1929 Birth of second son, John, in Barnes, England. (Home of Cyril's parents: George & Ellen Hooke)
1932 - 1946 Mainly living in England due to family commitments and 1939 - 45 war. Cyril home on periodic leave.
1946 - 1947 Joined husband, Cyril, in India at Ferozepore and Pulgaon
1947 - 1953 Living in Suffolk with Cyril
1953 - 1956 Living in Germany with Cyril
1957 Bought "The Clinches" in Bexhill when Cyril retired.
26 Aug 1969 Cyril died in Bexhill
1969 - 1986 Elaine continued living at "The Clinches"
1986 Sold "The Clinches" and bought a warden care flat
June 1992 Fell and broke her hip
21 Dec 1998 Died of longstanding dementia (from ~1992) and osteporosis at Rosehaven Rest Home, 20 Brookvale Road, Southampton
Her life in outline was described very well by her two sons, George & John, at her funeral in December 1998.
John's Eulogy - 4th January 1999 Highfield Church, Southampton
Ella Marion Oakden was born in Meerut, India, on 2nd June 1900 - six months before Queen Victoria died. Her father, Ralph Oakden, was in the ICS (Indian Civil Service) becoming District Commissioner and receiving the O.B.E. and later a knighthood.
When about 5 she came to England and was brought up in Staffordhsire where her grandfather, Roger Oakden, was vicar of Bramshall. She recalled going down to the local station with him to collect the paper which had been thrown out of the train as it passed through at speed.
When about 13, she and her two sisters went back to India and had the fearsome Miss Linton as their governess. She had three aunts - Ella, Mona and May - who at one time or another "stood in" for her parents in India, after her grandparents had died. After a year at Roedean (which she disliked) she attended Oakdene School, Beaconsfield, during the 1st World War.
After the war, her parents took all three sisters to India, where they all married Army Officers. She rode her own horse, Ulyssees, which had a "dropped head" that meant it was unfit for Army duties. In Feb 1926 she married Cyril George Hooke and had two sons - George (born Nov 1926) in India) and John (myself - born Sept 1929 in SW London). From 1930 she was to be separated for short and long spells from her husband, he in India, having periodic leave, and she, looking after her sons in England. The longest time apart was the six years during WW2 from 1939-45. She was so pleased to have boys - she had been brought up in a virtually all-female household! We wondered how she managed to put up with us when we got up to mischief!
From the 1930s she had a camera (like her mother) and there are many records of her work.
At the outbreak of war, she learned to cook and used gas or paraffin cookers in out of the way cottages and supplemented the 1 pound per month jam ration by making vast quantities of jam. As an alternative to helping the war effort, she opted to work tirelessly in the scullery of a Prep School in Devon - former staff still recall her efforts washing dishes etc. Perhaps her skills at riding, driving and playing tennis helped her, i.e directing a "head-down" horse, or forcibly pushing the gear levere into place in the "crash" gearbox, or serving under-arm with a vicious top spin that was hard to face. At least, they demonstrated her strength of character and determination!
In 1947, recuperation from the hardships of war, both for her and her husband; who had retired - a house in rural Suffolk with an overgrown acre or so. Apples, bees, vegetables, daffodils in the orchard and a garden to see to - and jam to make!
Then to Germany from 1952 to 1957, where my father was a civilian in BAOR. Holidays in Austria, walking.
Retirement to Bexhill, with a large garden to work in and at, and space for the growing number of grandchildren to play and have rides in the wheelbarrow. Here, after her husband had persuaded the Vicar to have Bible Studies, the meetings were held in their home. Later, she came to enjoy reading the Living Bible for she had often found the Authorised difficult to understand.
After her husband died, during the 70s, she went on holidays with sons and grandchildren, always loving to hear of their progress, enjoying her first flight in a small plane at 72 and a helicopter at 82, and a first holiday in Switzerland in 1983, when others were astounded at the ground she covered!
In 1977 she revisited India and then in 1986 decided to move to a warden-controlled flat overlooking the sea, she enjoyed the company there and only gave up driving in 1987, that was until her fall, breaking her hip, in June 1992.
It proved necessary for her to move - and so to Southampton, to Rosehaven - a spacious home, where her conversations with others were always appreciated, and, like others, would lay down the law about what she thought was right etc. On her walks on parts of the Common, which were so like the New Forest, she said what a good job William the Conqueror had done!
She was categoric about many things; for instance, if you asked how you mounted an elephant, there was only one way - hold on to the tail and climb up! Tp prove it there's a film of her mother doing it - the right way!
George's Eulogy - 4th January 1999 Highfield Church, Southampton
"And in God's House for evermore, my dwelling place shal be."
Thank you to all for coming, some long and difficult journeys.
John has given a good summary of Ma's (Mother's) life with insights into what she was like. I'd like to add a few cameos, some of which Val contributed, to help fill in the picture a bit more. There is obviously some overlap.
Her background of India, where she was used to having servants to do things for her, and marrying an Army Officer, put her into a particular category or class in those days. Yet, she was quite prepared, as John has said, to work in the scullery of a Boys' Prep School and do what were considered then, menial tasks. She didn't have any "airs and graces" and was adaptable. She always referred to that time with pleasure. This is commented in in a letter from a former master of the school (who incidentally taught me woodwork amongst other things) as follows:
I remember her well and with grateful thanks for all she did for Marlborough House (MHS) in those difficult years during the war when domestic staff were non-existent. The MHS pantry was a happy place.
She was willing to try almost anything! Some of you will remember the vibrant up-beat services of the Dales Bible Weeks. Mother, used to a more traditional form of church service, came over to the Bradford church once with us; she never seemed to be shocked - she was in her early 80s - and her comment at the time was that it was "West Indian type music". In a letter to us later, she thanked us for, amongst other things, taking her to a charsimatic service.
Mother was a realist. She coped with life as it came and did not expect too much of anybody - including herself. Obviously she did not agree with or approve of everything that went on, and she could be quite strong in her comments, but she was not vindictive or unkind.
Some of you will remember Pete Dobson, 6ft+, ex-Marxist, a Christian with strong socialist views. Mother, 5ft+, was a staunch Conservative. Pete had a great respect for her, but would at times try to wind her up. There was one occasion - and I wish I could remember what he'd said - when Ma responded vigorously, shaking her finger at him and laying down the law, tearing him off in strips. She was quite determined and strong in some of her views.
Ma was well organised. When we had to clear out her apartment at Bexhill in 1992, everything was sorted out into boxes or packets and meticulously labelled. She went in for lists and always had her small notebook or piece of paper in her handbag. I can "see her" checking things off on a list and saying, "That's that and that's that and that's that."
Ma was a veteran driver, having learnt at the age of 18, and stopping driving when nearly 88 - almost 70 years. There was the famous Wolseley 1500, maroon coloured and called Tap - registration letters TAP. Over a number of years she drove, by herself, from Bexhill to Lytham St Annes (over 300 miles). For a time she did the journey in one day, but later on she took two days, spending a night at Stowe-on-the-Wold. This was when she was in her 70s, and she stopped long distance driving in 1976.
The car would come laden with fruit and bottled fruit from the Clinches garden.
She quickly made herself at home - washing up, tidying and then sitting mending all the socks and other clothes that had been collected for her attention.
The children loved her - even in old age she would readily kneel on the floor to give closer attention to their playing.
She wrote numerous letters; they were always fluent and lively; never complaining. She kept in touch regularly by phone until her fall in 1992. Until then her mind had been very active - she like to watch mostly nature programmes and kept in touch with current affairs.
She sent us a number of books of subjects which had been serialised on BBC TV.
Her stamina was a source of wonder to us when she came on holiday to the Lakes or Scotland. In her 70s she went some way up the Dungeon Ghyll! She loved to climb and cross streams and negotiate rocky paths - using her walking stick, and wearing strong shoes not walking boots!
She had many years of moving about - in India, from India to England and back, in England; never a chance to settle down for long. She coped with all this with cheerfulness and fortitude and showed great courage and commonsense, especially during Pa's illness.
When Ma and Pa finally settled down in Bexhill in 1957 they had 12 years in one place before Pa died in 1969. She once said that they were the happiest years of her life.
Gardening played a large part in both their lives, and continued to do so for Ma after Pa's death.
An impression of someone who met her only a few times in her later years - "she was such a gracious, dignified and independent lady."
Whenever she came to stay, Ma would always come to Church with us, and she was always glad for us to pray with her.
In a few moments Graham is going to read Psalm 121 - "I will lift up my eyes to the hills - from whence comes my help."
This was chosen because at the back of Ma's book "Your favourite songs of praise", she had written out the Scottish Psalter Version. Later we discovered it had been marked in three other places:
1. The Bible given to her by her mother in 1911
2. Her mother's Bible, given to her after her mother's death in 1948, the Psalm was marked by two crosses.
3. In her own Living Bible more recently.
The Psalm obviously meant a lot to her. I thnak the Lord for my mother, Ma.
Psalm 121
1 I lift up my eyes to the hills — where does my help come from? 2 My help comes from the Lord,the Maker of heaven and earth.
3 He will not let your foot slip — he who watches over you will not slumber; 4 indeed, he who watches over Israelwill neither slumber nor sleep.
5 The Lord watches over you — the Lord is your shade at your right hand; 6 the sun will not harm you by day,nor the moon by night.
7 The Lord will keep you from all harm — he will watch over your life; 8 the Lord will watch over your coming and goingboth now and forevermore. NIV