Ellen Hooke's diary for her children
Ellen Hooke's diary of her childhood (1860s)
written for her own children: Mildred, Frances, Trixie, Ella and Cyril, probably about 1900-1910. You can click through the whole diary here but it's much easier to read the transcript which follows. Words in red are my best guess and ??? mean I haven't a clue! Please let me know if you can decipher what Ellen wrote. The first picture below is of Ellen herself.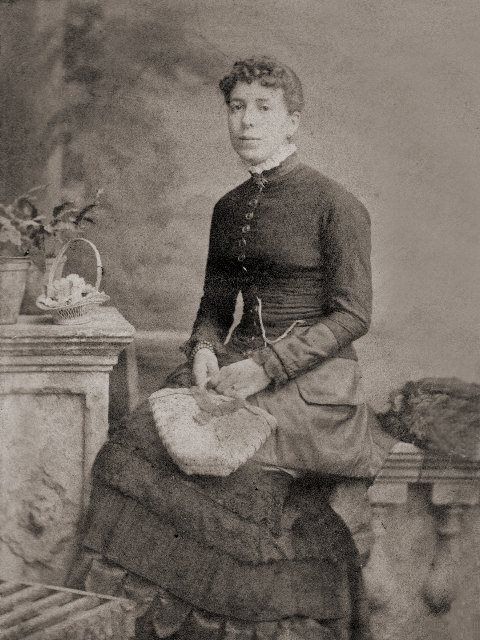 My children have often asked me to write down a few incidents in my life. So, to please them, I proceed to do so. My mother married when aged 34 a widower of 49 years with six children. His name was Thomas Farmer. They were married at St George's Church Hanover Square, July 1, 1854.
Ed. Note: St George's, Hanover Square, Mayfair, is an Anglican church in central London, built in 1721 The church was constructed under a project to build fifty new churches around London (the Queen Anne Churches). It is situated in Hanover Square, near Oxford Circus, in what is now the City of Westminster. Owing to its Mayfair location, it has been a frequent venue of high society weddings. Handel was a regular worshipper at St George's.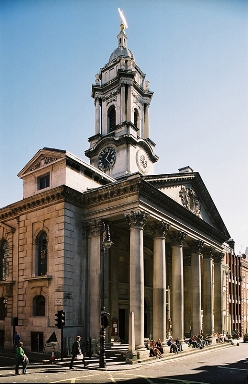 My father was an old fashioned man, tall and slightly stout. He was a man fond of jokes, and kept us amused by various anecdotes. He was quick and hot tempered but it was soon over and he would say, "Well my dear I did not mean it." We used to sing hymns on Sunday evening, and ended with the evening hymn, "Glory to thee my God this night". My father always joined lustily in that, his voice mostly much more powerful than sweet. We three all loved to hear him come in at the finish.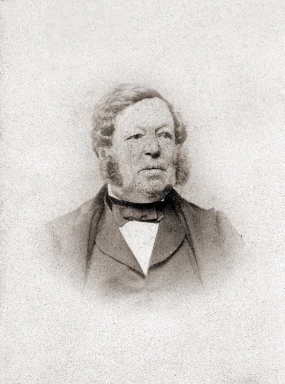 Thomas Farmer (1808-1878)
He always ended his good night to me with "God bless you my darling".
He was not a professed Christian as it used to be called, but he sat at the door of our pew in the gallery of Eccleston Square Congregational Church looking (as a man once told him who happen to attend the evening service) as good as gold. We used (the family of girls) to trot off to Sunday school every Sunday morning, the school began at 9:30am. Then the older children went into the church to the service.
Ed Note: Information about Eccleston Square Congregational Church from 1879 when Ellen would have been aged 23.
Eccleston Square, Belgrave-road, S.W. Terms of membership: "The only qualification for Church membership is true piety. Persons desirous of becoming members must have an interview with the minister." Seat rents vary in amount from as. 6d. to 7s. per quarter. Application can be made after any of the services. Accommodation for over 1,200. Erected in the year 1848. Services on Sunday at 11 a.m. and 6.30 p.m., and Wednesday at 7.30 p.m.
As I grew older I used to go to the weekly practice for the Sunday music, joining the church choir and the Choral Society. (later) (Ed. I think the word later refers to the following inserted page.) We had a very good band and some very good concerts were given. I first met Mrs GW Sellars then Miss Hill also Mr G A Sellars and many others. The entertainment was good and a great deal was done for the jolly people of the church.
(This paragraph inserted later by Ellen) Just about the time that I left, the secretary of the Choral Society was what he called bringing me out and I was made to sing in Duets, Trio's and a Solo or two. When I was staying at Swallowfield the vicar's wife persuaded me to join the church choir. She said I always sounded my consonants in singing. I was not aware of this. I also went to Swallowfield to sing "Who'll buy my roses" and had an encore.
When my father died mother and I came to Hammersmith to live.
(This paragraph inserted later by Ellen) I also went one Christmas to a dance at Swallowfield Park country dancing. The floods were out, but I got there all right and had a nice time. I decided not to go but my mother finally said the change would be beneficial, my letter of non-acceptance arrived the morning after the dance.
As a small child I was supposed to be spoilt. Anyway I was not good. I remember being naughty and was sent upstairs. I sat in a dark room and resolved never to go down again, but remain up and be starved and then how sorry my mother would be. As the shadows came on the ceiling I was sure I saw Satan with horns. I did not feel equal to remaining so crept down the stairs where my mother found me and I was allowed to join the family.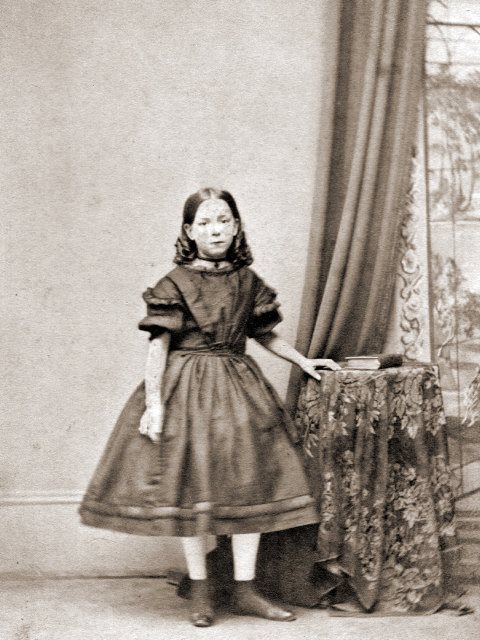 My first remembrance seems to be of a small child who was usually engaged in getting out of the way of the cat "Kitty" who made a practice of trying to prick my calves with her claws if I teased or offended her in any way. The said Cat, who lived to be 15 years old, I believe, when she had young kittens she resented not only any interference with them, but Dash the dog, or any other who happened to be about and would attack any stranger, even a big one and came off victorious.
(The next three paragraphs inserted later by Ellen) We also had an old man who cleaned the boots and shoes for a time his head used to shake and he always seemed to me to be about 100 years old. When he talked to mother he invariably said, "Money's badly divided Missis"
"Well," says Missis, "what will you do when you have spent your share?"
"Divide again Missis"
Kitty always sulked if any cousins came to visit us and would go up to the top landing, only coming down at night after the children were in bed. We had to carry her food up. Dash the dog, a good old fellow, good friends with Kitty as a rule, but when they quarrelled the latter always scored.
Dash was very fond of a boy who helped in the house etc. When John Brown became ill, he used to go and sit in his room all day and returned to us at night. Finally when Brownie, as we called him, died, Dash left us and took up his abode with Mr and Mrs Brown. For some time he visited us about once a week, as time went on he did not come as frequently, finally he did not come at all.
My brother had a goat and he sold it (a small one) and bought a large goat. I had been in the habit of teasing and playing with the small animal, but the big horned beast was not playful. He ran after me, it was a long yard and I only just managed to get inside the house before he caught up with me. He was too late or I would not be writing this. Finally the goat was got rid of.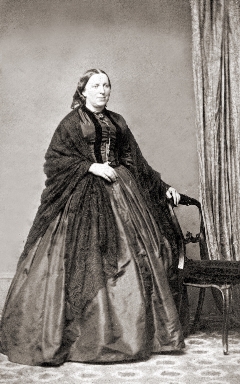 Photograph of Ellen's mother, Hannah Ann Farmer, in her wedding dress.
When about four years old I had a serious illness whooping cough and inflammation of the lungs, and doctors decided that I was a hopeless case. My mother desired a warm bath. The doctors agreed and waited to see the results. It proved beneficial and I recovered.
We had two horses, the one named Peg my father used to drive. Peg came every morning pushed open a door and waited for his usual piece of sugar. He was what we called frisky and when out in the light trap my father driving and an apprehensive small child sitting beside him often indulged in fancy dancing one being upon his hind legs. When he became normal again I would breathe freely once more. Peg was very upset when he crossed a bridge (in those days 2d toll was paid) and disliked having to wait - indulging in many dances.
Once a band passed playing noisily, and Peg's forlegs went up so high I had my doubts if they would come down the right way again. They did and people ran out of the way. We went off at a terrific rate down the long road, eventually we crossed the bridge quite easily. I did not care much for sitting behind Peg, but was told to be a good child and hold onto the side. I came through them all. Great sorrows when Peg died.
About the time I was six years old I began to play with U A Farnance. She was a bit dictatorial we were great friends. At times U A would not speak and I had to play alone. I had a rocking horse and we spent much time on that making calls and leaving cards.
(This paragraph inserted later) Once U, A, F. would not speak to me. I inquired why and was told I ought to ???? and must go on my knees and beg her pardon. I objected and had to play alone. I became bored and said I would do as she wished. She solemnly bade me kneel down. I did so, and said I am sorry and "beg your pardon" I never knew why ????? ???? down to servants.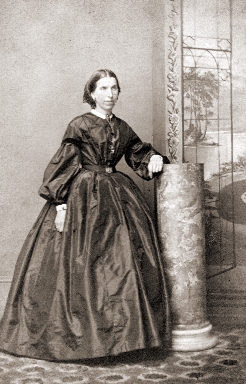 After leaving the old house ( a church was built on the site (St Philips) we moved to a house about 20 houses away and Aunt Lydia (pictured) came to live with us a couple of years, then went to take care of a family of nieces and nephews who lost both parents. I am afraid I was not sorry when she went. I liked her very much, but she influenced my mother in not allowing me to go to any entertainments at the Congregational Church saying the Saturday evening prayer meeting was all the recreation that I needed. I went once but determined not to go again. When I was 16 and allowed to go to the evening by myself I ran all the way home as I was not used to being out so late.
In the old house of all as we called it, Susan came to live with us. She had no friends in London. She finally married my eldest half brother. Susan was a plump beauty, beautiful blue eyes, long black lashes, a beautiful neck and arms and hands. She was very prim. He principal remark when I came into her room was, "Now what do you want?" watching my roving eye.
"I'll tell your mother if you touch any of my things."
I wanted to touch some of them very much, and said that I would not touch anything. I used therefore to throw the door open wide and run away. The one thing that I coveted was a leather bag or box. It contained lovely packets containing needles and pins etc. and I did so much want to pack it tidy as I liked it.
I was bad enough to open the door, throw it wide open and run away always followed by "I'll tell your mother you naughty child." One day I managed to look in ????? the wonderful bag and dash. My mother then intervened and I had to be good.
Susan had an elderly sister (half) who was very prim and proper indeed. I had always to be upon best behaviour when she called. It happened that Susan had bought a new bonnet a very nice one. I was going upstairs with my sister Emma who was also in a merry mood. ????? came in and we looked over the banisters.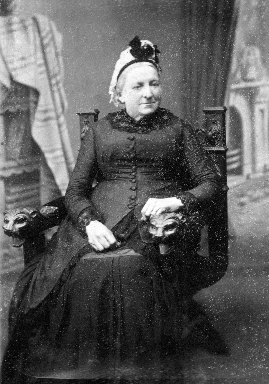 "Oh?" says Susan. "Here's Susan." "Yes," I shouted, " and all in her best too. " Mrs Newcombe was shocked and said, "How did those children know that I had on my new and best bonnet?" We did not but it happened that Susan had bought one exactly like it.
It was the one time of my life when I had to be on very best behaviour when the Old Maid as she was called came to see her sister.
I am afraid that I was naughty at times but the greatest punishment was to be sent into the room where the picture hung, with the eyes that seemed to follow one. I used to get behind a curtain and look out at intervals but he was always telling me how naughty I was.
Final photograph of Ellen's mother; Hannah Ann Farmer (1822-1903) born into the Clarke family with sisters: Elizabeth Russell, Ellen Gurney, Lydia Clarke (Aunt Lydia pictured above), Emily Miller, May Ann Clarke.