St Paul's Boys' School
St Paul's Boys School was the place where my Great Grandfather, George A Hooke sent his only son, my grandfather Cyril during his years of education from approx 1903 - 1916.
Here is what Wikipaedia tells us about this school:
St Paul's School is a boys' independent school, founded in 1509 by John Colet and located on a 42 acre (17 hectare) site by the River Thames, in Barnes, London. It is one of the original nine British public schools, the so-called 'Clarendon Schools' investigated by the Clarendon Commission set up in 1861 – however it was argued successfully that the school should be omitted from the Public Schools Act 1868.[1] Since 1881, St Paul's has had its own preparatory school, Colet Court, which since 1968 has been located on the same site. According to its position in the national tables of GCSE and A level performance, and with one of the highest Oxford and Cambridge acceptance rates of any secondary school or college in Britain, St Paul's is considered one of the leading schools in the country.[
Towards the end of the 19th century, as London expanded and residents moved away from the City of London and its environs, it was decided that the school should move to larger premises.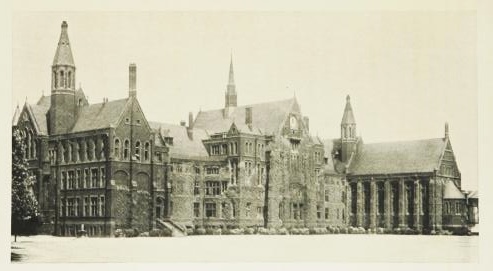 St Paul's, Hammersmith, c.1900
In 1884 a new building designed by the architect Alfred Waterhouse rose to dominate the countryside of Hammersmith. The terracotta for the Hammersmith school was made by the famous Gibbs and Canning Limited of Tamworth. At this time the street numbering was changed locally and so the school address, whether by accident or design, became 153 Hammersmith Road.The preparatory school, Colet Court, was soon afterwards housed in new premises in a similar style on the opposite side of the road.
Here are a couple of Cyril's school certificates for 1912 & 1913.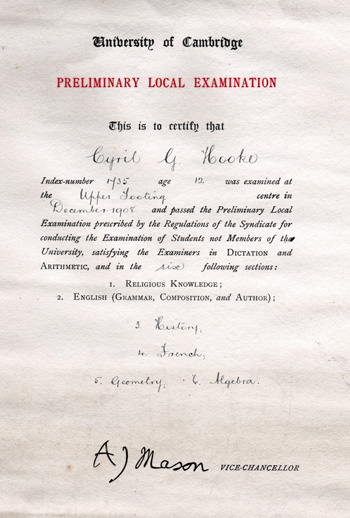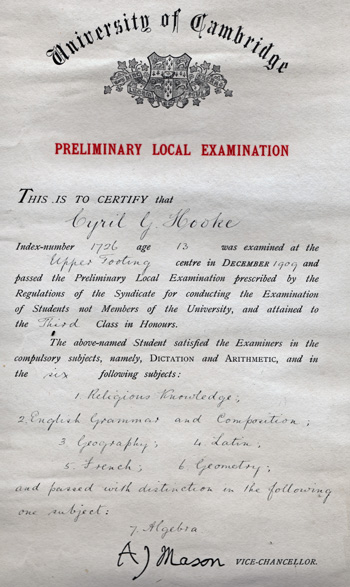 Return to: