Three Old Maids and More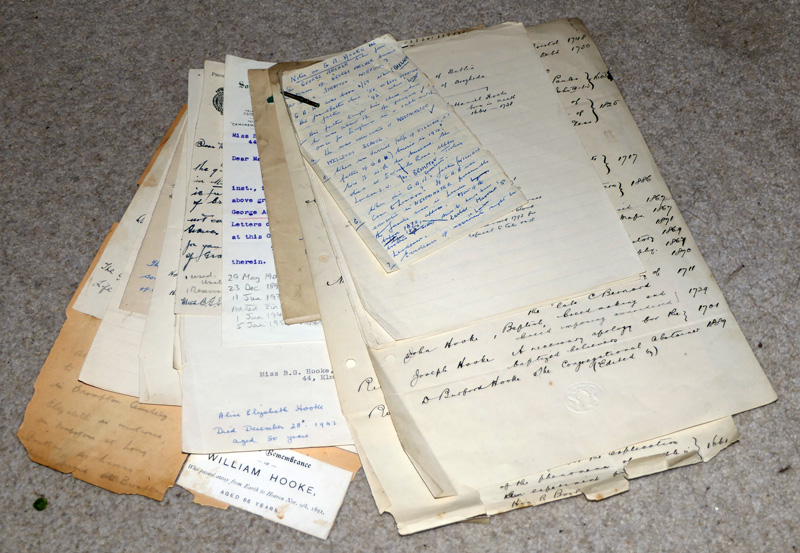 In my account of the Hooke family of Long Stratton I referred to the three unmarried daughters of William and Esther (nee Creed) Hooke. (William the second). They were rather unkindly known as the three old maids of Beccles!
When George Archer Hooke was researching the family in the 1920s he received some help from his elder brother Henry and yet another William Samuel Hooke (!), known as Billie. George grouped together all his findings and scribblings (photo right), amongst which was the following interesting little anecdote written by Henry. (Dad & Mum referred to here would be William the third and Harriett Hooke - living in London)
A Visit to Beccles
I presume the Martha, Elizabeth and Polly are the three old maids of Beccles whom I remember - and presumably George would too - for we stayed with them a few days when boys on returning from Yarmouth. Mother & Dad slept there but they could not put us up as well so we lodged at a Pub (!) in the town. Dad took us to make arrangements and said he must have something for the "good of the house" so called for some whisky which he took the opportunity of pouring into the sawdust ?????? when left alone for a few minutes. While we were in Beccles the Annual Regatta on the Waveney took place and I have still a lively recollection of the greasy pole climbing - or rather it was not a climb but a crawl along a pole projecting over the river and fine fun it was to see splash after splash as the men fell in struggling to reach the end where a young live pig was hung in a sack for anyone who could reach it.
I have always understood the Hookes came from Beccles to Long Stratton and have heard that our name will be found in our on Beccles Church. It is possible a search there would take the tree further back still if so desired.
What did these ladies do? Census Records (1871) and research notes describe Martha and Mary Anne's (Elizabeth had died by then) occupation as "Fancy Repository". There is a lack of clarity online about what this means but research notes say they were straw bonnet makers and probably had a small shop selling these and perhaps other goods.In the 1861 census Elizabeth and Mary Ann were described as "Toy Shop Dealers". Martha's name was not recorded in this census. In the 1881 census only Mary Ann was alive and she was described as a "Retired General Shopkeeper". They lived at 92a Smallgate Street, Beccles.
The Archer connection?
Regarding the "Archer connection" Henry wrote: I remember our father referring to some cousins - the Misses Archer - who lived a few miles from Stratton.
He also recorded for George the following inscription of a tombstone at Long Stratton:
In memory of John Archer who died April 14th 1802 aged 62 years - also of George Archer his son who died Sept 1st 1793.
I would confidently speculate that George Archer Hooke was named after this son of one of his grandfather's good friends, who would seem to have died at a relatively young age. One of the witnesses at his grandparents' wedding in 1824 was a certain Elizabeth Archer, perhaps one of the aforementioned cousins.
George Archer Hooke wrote about Tacolnestone, birth home of his grandmother, Elizabeth (described in 1826 on William's birth certificate as a draper and elsewhere as a confectioner), and baptism of his father, William, as follows:
Description of Tacolnestone (1920s)
Tacolnestone is 10 miles south of Norwich and about 2.5 miles west of Forncett Station.The village is struggling - there being seldom more than 6 houses together. The country is richly wooded and park like.
The Church stands by the side of the main road and 6 trees stand as sentinels at the small gate to the church yard. The Church itself is poor. It was originally built with pebbles and plaster to imitate stone and this is peeling off. The tower, apparently, has not been touched with plaster and therefore looks better than the remainder. The roof is now of red tiles. The design is simple - almost crude. The tower is square without battlements and each of the windows has a design of its own. The north and south windows have recently been restored and renovated. Tombsones in the Churchyard show that the name of Tooke has been in the village some time. One refers to the death in 1837 of Charlotte, wife of Archer Tooke.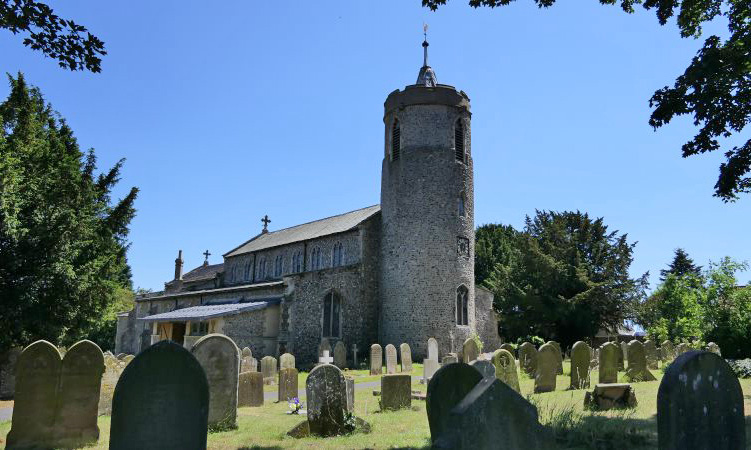 Description of St Mary's Church, Long Stratton (1920s)
Right: Photo (2018) and on-site sketch by George Archer Hooke ~ 1920
Church built of pebble. Round Tower. Clock - Hour Hand only
Vane with gilded cock
Cross on east end of middle
The chancel appears to have been added
Church has two side wings supported by 6 buttresses each side.
The round tower has no buttress.
Interior. Two rows of cols. one side cloisters and the other side plain.
Seats. Pews of two kinds. Modern
Windows plain. Those in main block being more attractive than those close to wings.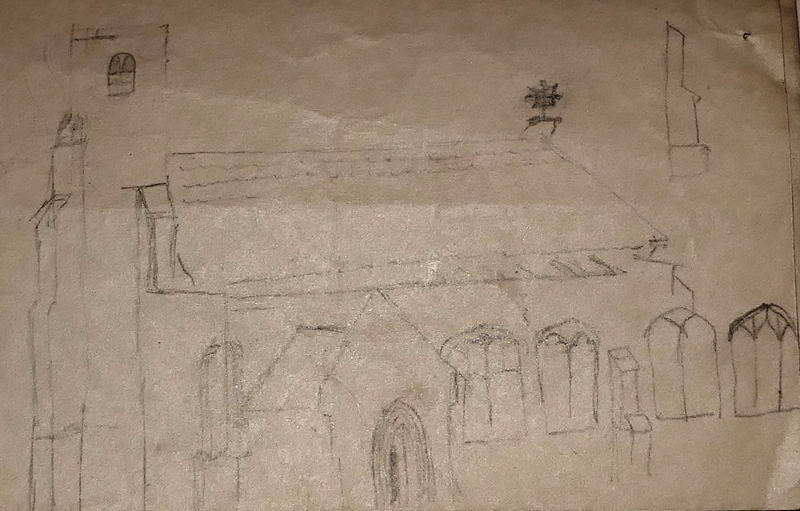 So wings better. Old porch and door on south side. Row of slate and black tiles 1 stained window.
The interior is very plain the principal feature being that a row of 3 sub..... cols down the centre of the church
The seats are ....., the ....... ........ being something like our hall at home.
There is a small organ I think.
The walls are coloured.
Return to: Long Stratton