Upper Sheringham & Blakeney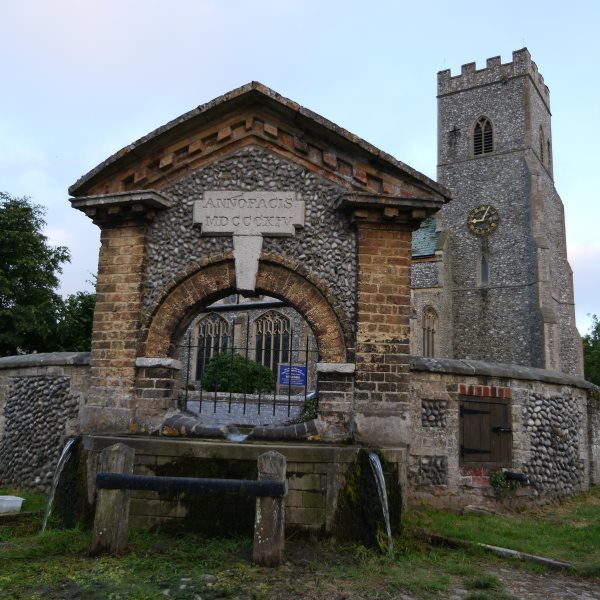 Hooke Family Tree Research in Norfolk, June 2018
We started our investigations just round the corner from our accommodation - The Dales Hotel in Upper Sheringham. Disappointingly, we were unable to find anything Hooke-related at All Saints Church, Upper Sheringham (left). There was no sign of a Hooke brass which we understood had once been displayed there. We took photos of the church and font (right), undoubtedly the place of many a Hooke christening.
Subsequently, we received an email assuring us that the brass rubbing which we could not find is very much present in the church and is located in the floor at the east end of the south aisle. We failed to spot it on our visit - easily done when there is so much to look for in graveyards and churches and we had so little time to do it! As we live a long way from Norfolk it will probably be a while before we can add a photograph here.
It was a gentle eight mile drive west to Blakeney where the tide was out. Blakeney was once a thriving port until the river silted up and the coastline receded. We took time to enjoy the promenade, climb the small coastal hill for the view and take a look inside the oldest building in the village - the basement of a merchant's house.
See some photos of Blakeney below. Click on each image to see the full picture and details.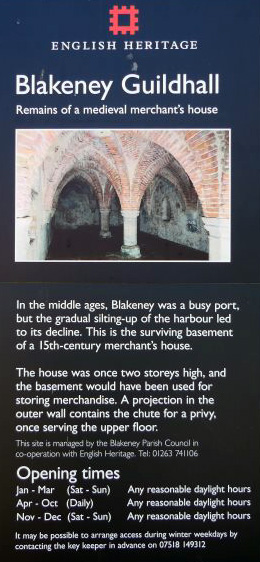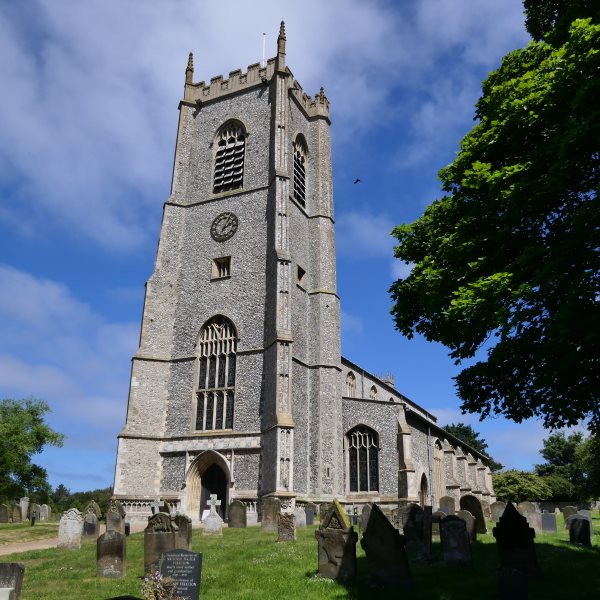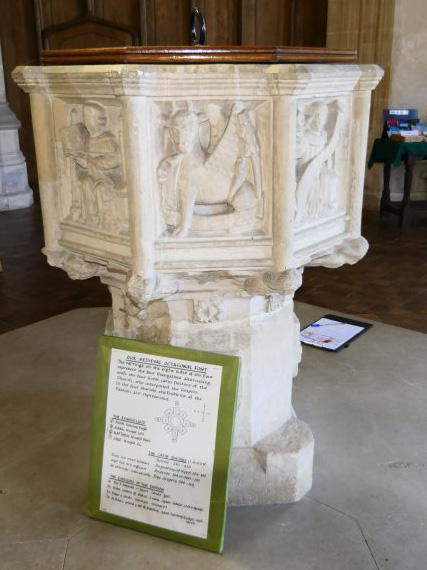 St Nicholas' church is on the edge of the village and we searched the graveyard in vain for any sign of a Hooke grave. Many were so weathered they were impossible to read. However, just before we were to leave I checked Cyril's notes from the 1960s and realised that we needed to look for a Jackson stone rather than a Hooke stone. We were quickly rewarded with three prominent stones just to the left of the main entrance. Cyril had traced our Hooke ancestry back to a Thomas Hooke (1695-1764) and his wife Bridget (1699-1778). They had five children, the fourth of whom was also named Bridget, but known as Biddy (1736-1814). She married a certain Michael Jackson (May 25 1760) and her gravestone is clearly visble with the larger inscriptions legible. We struggled with the smaller text at the bottom as, even after removing the undergrowth, some words were well-worn.
The full text of Biddy Jackson's grave is as follows: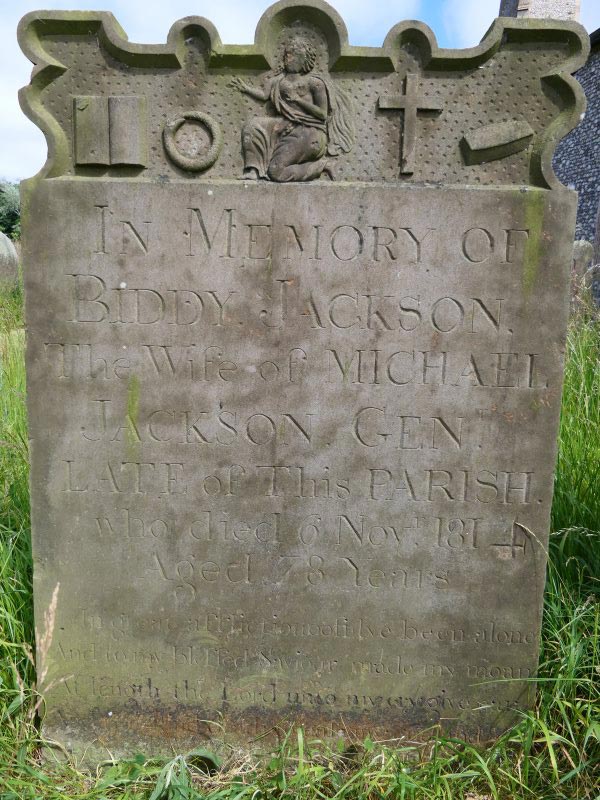 In memory of Biddy Jackson (nee Hooke)
The wife of Michael Jackson Gent
Late of this parish who died 6 Nov 1814 aged 78 years
In great affliction oft I've been alone
And to my blessed Saviour made my moan
At length the Lord unto my cry give ear
And with kind death to end my grief and care
???? and body ?????
Alongside Biddy Jackson's grave is the grave of a certain Michael Jackson (right), inscribed with images of the tools of his profession - a bricklayer - the text as follows. It would seem that this is not the same Michael Jackson married to Biddy, though undoubtedly related, as the inscription indicates two wives, neither of them being Biddy.
To the memory of Michael Jackson
Bricklayer
who departed this life
the 21 day of May 1795
aged 91 years
Also Catharine his first wife
who died the 20 day of February
1740 aged 29 years
Also Elizabeth his second wife
who died the ???? 17 aged 81? years
We then travelled east to Beeston St Mary's to continue the search of our Hooke ancestry.
To add: Write about Thomas Hooke of Blakeney and add transcript of his will. He had a boat.