Hooke Family Tree Research
June 2018
It must be in my genes! Along with my wife, Ruth, I found myself tracking down my Hooke ancestry in Norfolk on a short break staying at the Dales Hotel in Upper Sheringham.
I had discovered that this was the area that many Hookes, including our particular line, had settled back in the 16th century and beyond. It was my Great Grandfather, George Archer Hooke who began the Hooke ancestry search back in 1927; this led to his son Cyril, my grandfather, along with his wife Elaine and his sister Ella, undertaking even more intensive research in the period 1958 to 1963. This led to the production of a Hooke Family Chart which was copied on rolls and given to all members of the family.
This is where I began my journey into the past, nearly 60 years later, transferring all the hand-written data to My Heritage software, data searches increasing the tree to over 1900 names to date. Computerised records, accessible online (at a price!) has replaced the hard slog of writing letters, visiting churches, gaining permission to see and then decipher ancient records. I have in my possession all the research notes of both George Archer Hooke and Cyril Hooke, faithfully kept by Cyril's wife, Granny Elaine. Having read them all through I have the greatest admiration for the thoroughness and dogged determination of their search for our Hooke ancestry.
Their research all seems to have begun with a letter written in 1927 by George Archer Hooke to his son Cyril, out in India. You can read the whole letter further down this page. The seeds of enquiry had already been sown and George was beginning to take up the ancestry challenge. It's worth getting a feel for the Hooke family at this stage before reading the letter which makes an initial stab at exploring Hooke roots, but also opens a window on the Hookes in 1927 and has at least one surprisingly frank revelation towards the end. You'll have to read it to see what I mean! (Letter p5/6)
January 1927
The Hooke family comprised: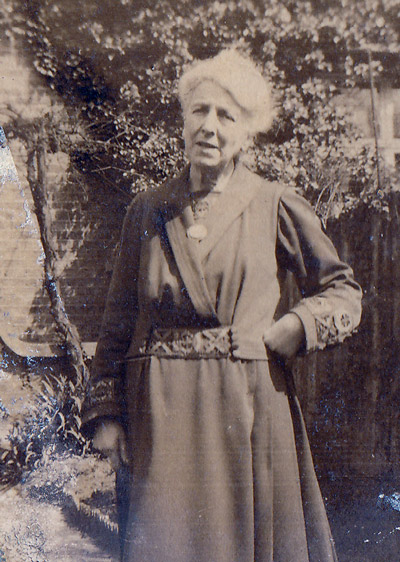 George, who is approaching his 70th year and retired but still quite active.
Ellen is 71 and ailing. The following year she became seriously ill and died in September 1928. Her condition deteriorating, you can read George's sad correspondence with his son Cyril, out in India, here.
Mildred is 36, single, teaching in Birmingham but shortly (May 1927) to achieve the promotion which would define her career, as Headmistress of Bradford Girls Grammar School where she would discover an impetuous and gifted 16 year old, Barbara Castle and appoint her as head girl.Then in the following years Mildred would build a whole new school, opened by royalty in 1936 and ultimately receive the OBE.
Frances, 35, is single, and still living at home. For uncertain reasons it seems that she was never able to build her own life and career, but her love and caring skills came into their own as she appears to have taken the greatest burden in caring for her dying mother.
Trixie, aged 35, is also unmarried, a Cambridge graduate and employed as a statistician.
Ella, aged 31, is unmarried, working as a school secretary in Nottingham.
Cyril, just turned 30, an army officer, married for one year to Elaine, is just beginning to get used to being a parent to George (new grandson of George Archer Hooke) who is about 10 weeks old. The family are in Meerut, India, and cherish every letter that arrives from England, this being one. The rest of the Hooke family were all together for Christmas in Barnes, London, as described in the letter reproduced below.
George Archer Family Tree Letter
My Great Grandfather's research revealed that the wider Hooke family populated many North Norfolk villages during the 16th-19C, as shown by this sketch map below, drawn by Grandfather Cyril.
So, this brings the ancestry story back to me, my wife and our visit to the North Norfolk area in June 2018. Because of the very short time we had available to us we focussed our attention on just three places, Upper Sheringham, Blakeney and Beeston Regis, before paying a short visit to Long Stratton near Norwich, home of our direct ancestors during the first half of the 19th Century.. Find out what we discovered by following the links below: